Get Active: Live Better
We all know that physical activity is a vital part of a healthy lifestyle. Moving regularly helps prevent a number of health problems and helps promote a better quality of life overall. Learn more about the recommendations related to physical activity to maintain an active life and improve health.
It's no secret — healthy living starts with staying active
According to the Canadian Society for Exercise Physiology, adults should be physically active every day to reap a whole host of health benefits. This includes a decrease in the risk of several types of cancer, cardiovascular disease, hypertension, Type 2 Diabetes, weight gain, depression and anxiety, and an improvement in bone health, quality of life and physical functioning.
To benefit from physical activity fully, adults should engage in moderate to vigorous activity for at least 150 minutes a week, while children and youth should be moderately or vigorously active for 60 minutes every day.
Start today by adopting active transportation, taking a walk at lunch time or going for a hike with family on the weekend. And remember, the key to staying active is choosing an activity you like such as speed walking, swimming, biking, running, skating, cross-country skiing, hiking, etc. What's important is that you move – any activity at all is the change maker.
Winning foods to power you pre-workout!
When you need to eat less than two hours before physical activity, choose foods that deliver enough of the right carbs (sugars). For example, you can enjoy a bowl of cereal with milk, a banana, yogurt, apple sauce or dried fruit. And don't forget to stay hydrated to ensure you feel at the top of your fitness game!
Rehydration: An essential part of recovery!
Canada's Food Guide recommends making water your drink of choice to stay hydrated and quench thirst, rather than those that contain added sugar, salt or fats. Health Canada also recommends unsweetened carbonated water and white milk as healthy drink choices. Milk offers both fluids and nourishment thanks to its 90% water content and 15 essential nutrients. Complete protein, like those found in milk helps build and repair muscles after physical activity.
Other articles
4 Tips for a Healthier You and a Healthier Planet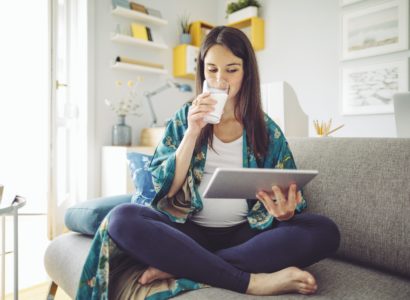 Milk Products: Your Partner in Healthy Eating
Nutritious Beverages to Stay Hydrated All Day Long!