Embracing Sustainability and Quality
Preserving natural resources
Protecting our environmental legacy is of growing interest to Canadians and it is an important focus of Canadian farmers too. In Canada, farms are typically passed down from generation to generation. Doing more with less, improving productivity, and managing renewable resources responsibly to foster the continuous cycling of nature's nutrients are some of the ways farmers are working to produce food while preserving natural resources.
While there are government regulations covering some aspects of environmental farm stewardship, this is augmented in the dairy sector with the Environment module of proAction® which outlines a number of best practices in sustainability related to cropping, recycling, energy management, nutrient cycling from manure and wastewater, and more. As the sector makes efforts towards a better tomorrow, a number of dairy farmers have switched to using or producing renewable energy with solar panels, windmills or biodigesters. Each farm is taking different steps, but all of these measures add up to alleviate the overall environmental footprint of dairy farms.
Let's not forget too that, around the world, cows and other ruminants often utilize land not suitable for growing crops, they upcycle grasses and plant by-products we would waste because they are inedible for humans, and they transform these into highly nutritious foods. Manure also makes a great natural fertilizer for agricultural soils, reducing the need for synthetic fertilizers.
Nothing says "quality" better than Canadian
In Canada, we're fortunate that the safety of our food supply is highly regulated. In fact, our food supply is considered to be among the safest in the world. Consumers can feel confident about the safety and quality of the food they purchase in Canada.
But Canadian quality goes beyond food safety considerations. Did you know that provincial governments regulate standards for several aspects of our food production, starting at the farm, in processing and distribution? Many Canadian agricultural sectors also have on-farm quality assurance programs that set the benchmarks for food safety, animal care and sustainability practices on farms.
Such is the case for Canadian milk, which is produced with some of the world's most rigorous standards. Dairy farmers are licensed and inspected by their provincial regulatory authorities. All milk is sampled when it is picked up at the farm, and the milk from each truck is then tested at processing plants as a final level of assurance. It's also good to know that Canadian milk is produced without the use of artificial growth hormones.
Dairy farmers adhere to provincially regulated milk quality standards to produce the highest quality milk. At the same time, they must also follow the comprehensive requirements of proAction®©, an on-farm quality assurance program which outlines high production standards in several areas including food safety, milk quality, animal care and sustainability, among others.
Choosing local
Food produced and grown in Canada meets very high standards of production. Consumers also generally benefit from shorter travel times from farm to table, which means maximum flavour and freshness, too. For most Canadians, milk is a 'local' food. Dairy farms are spread out across the country and in every province, so the Canadian milk sold in major cities typically comes from farms within 200 kilometres.
Towards a more sustainable future
In 2022, Dairy Farmers of Canada announced a goal for the dairy farm sector in Canada to reach net-zero greenhouse gas (GHG) emissions by the year 2050. This is a continuation of the environmental stewardship efforts of Canadian dairy farmers, who can help with the Government of Canada's goal of net-zero GHG emissions by 2050, and with international commitments, such as the Paris Agreement.
Reaching this sectoral target will be achieved through more farmers adopting various science-informed practices, techniques and technology that reduce emissions on the farm, use lower-intensity energy, and remove or sequester GHG in the farm's crops and landscape. Dairy farmers are on a journey to improve their use of regenerative agriculture practices, which results in healthier, more fertile soil and land that retain more nutrients and rainwater.
So when you choose Canadian milk products, you encourage the tremendous work of dairy farmers across the country who work to make a low-carbon future a reality.
Reducing our environmental footprint
Today, Canadian milk production makes up about 1% of Canada's total greenhouse gas emissions. Over the years, dairy farmers have made great gains in reducing emissions and land used, and in conserving water, informed by research in which they invested. From 1990 to 2020, Canadian dairy farmers reduced the carbon footprint of a litre of milk by 25 per cent, according to data from Environment Canada. As a result, the carbon footprint of Canadian milk is less than half the global average on a per-litre basis.
Caring for animals
Farmers love working with animals. Stringent codes of practice for animal production have been developed under the National Farm Animal Care Council (NFACC), an organization that brings together animal welfare groups, governments, enforcement agencies, academics, experts and groups representing farmers. These intervenors all have a common interest and desire to advance farm animal care in Canada. Each Code becomes a reference for government regulations and are at the heart of on-farm assurance programs. These private-sector programs help farmers identify areas of strength and potential areas for improvement. Farmers thus demonstrate their commitment to animal care, so Canadians can be confident that Canadian food is produced in a responsible way.
Other articles
Protein for Your Fitness and Health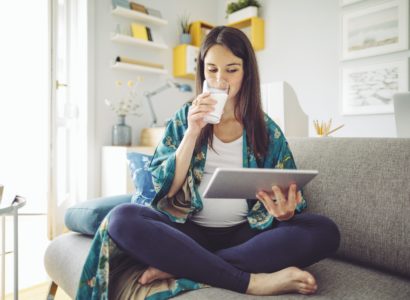 Milk Products: Your Partner in Healthy Eating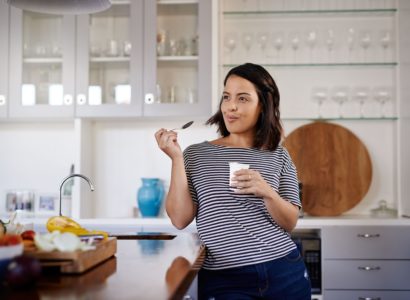 Healthy Ways to Satisfy Your Sweet Tooth