Getting Back to Basics with Healthy Eating
We are all aware of the influence our diet has on our health. More than ever, we are paying close attention to the way our food is produced and the need to prioritize cooking at home. By preparing homemade meals for yourself and your family, you are more likely to include higher quality foods and support healthier eating habits. Would you like to cook at home more often? With a few basics, you can make it happen!
Great Taste That's Good for You
A diet that focuses on a wide variety of basic nutritious foods, and which minimizes the intake of highly processed foods, is beneficial for health. Minimally processed and naturally nutritious and tasty staples such as vegetables and fruit, whole grains and protein foods are loaded with nutrients that are essential for your body to function properly. Eating dairy products like milk, yogurt and cheese for example, provides your body with up to 15 nutrients – including calcium and vitamin D, which are valuable allies for healthy bones. On the other hand, eating highly processed foods contributes little nutritional value and is less beneficial to overall health.
Think cooking at home is difficult? Think again.
You don't need to be a great chef to transform the food you have on hand into a delicious, healthy meal! It's easy-peasy; plan meals that will fill half your plate with fruit and vegetables, a quarter with whole grains and another quarter with wholesome proteins such as meat, chicken, fish, dairy products, legumes and nuts. Limit added fat, sugar and salt. Choose recipes that tempt you, and get creative! As you experiment, you will develop your culinary skills and meal preparation will become second nature. Who knows, you may even impress your loved ones!
Cooking for a healthy life!
The key is proper planning. Good planning makes meal preparation easier and saves you both time and money. Become a planning pro:
Take a few minutes to work out your weekly menu by checking in with your family members or drawing inspiration from cookbooks and online recipe sources.
Make a shopping list, noting what ingredients you need for your meals and snacks.
Why not check out specials for the week and include something new – each discovery will save you money and help introduce variety into your menu.
Wash and cut your vegetables ahead of time, to save time on busier days.
Plan larger quantities as you cook so you can easily whip up meals the next day, or freeze them to avoid waste.
Take advantage of extra weekend time to prepare freezable, homemade snacks in advance (chewy bars, muffins) and to cook meals that require more preparation time (soup, spaghetti sauce, lasagna).
The essentials
The more you cook at home, the more likely it is that you'll enjoy meals that are varied, nutritious and minimally processed, which can benefit your health. Cooking with a variety of fruits and veggies, whole grains, and proteins, will provide all the key essential nutrients you need for overall health. To prepare healthy and wholesome meals, try to have basic nutritious ingredients in the fridge, pantry and freezer so you are never caught off guard.
Stock your refrigerator with colourful, fresh fruit and vegetables, and protein foods like meat, fish, eggs, as well as a variety of milk products like milk, yogurt and cheese.
Keep a variety of non-perishable foods in your pantry: fruit (canned or dried); different whole-grain foods including crackers, cereal, oats, flour, pasta, rice or couscous; proteins (canned legumes, canned fish, peanut butter, etc.) and cooking ingredients like oils and condiments.
For a quick meal that can be prepared ahead of time, make good use of your freezer by filling it with various frozen fruits and vegetables (berries, green peas, spinach); nuts and seeds; ready-to-eat whole-grain foods like homemade muffins, pita bread, bagels, etc. as well as easy-to-thaw protein foods such as cooked chicken strips, shrimps, and single servings of fish or grated cheese.
Mission: Become a freezer master!
Apart from preventing needless waste, freezing extends the life of your food and ensures you always have something on hand when life gets busy. Are you a freezer master? A wide range of foods freeze well, with storage time depending on their category. Most cooked dishes can easily be kept in the freezer, along with bread, muffins and bagels, which defrost in no time. Fresh vegetables and fruit can be kept up to one year in the freezer, so make the most of summer's abundant harvest to stock up. Do the same for fresh herbs: transform them into pesto and then divide up into individual portions for later. Place raw meat, poultry, fish and seafood in airtight bags to preserve their freshness.
Healthy breakfasts that can be made in a jiffy
If you're racing out the door in the morning and don't have much time for breakfast, choose meals you can make quickly or ahead of time. Need some inspiration? Overnight oats, that you make the night before, are nourishing, nutritious and ready to eat first thing in the morning: simply combine oatmeal, milk, yogurt and fruit in a Mason jar and refrigerate overnight. Make your own breakfast sandwich and say goodbye to long lines at the drive-through: cook two beaten eggs in the microwave (about 90 seconds), then lay the omelette, a slice of Cheddar cheese and a leaf of lettuce on a whole wheat English muffin. Homemade nutritious cereal bars and muffins are another quick fix: make them on the weekend and keep them in the freezer. Simply take them out the night before and serve them with yogurt and fresh fruit for breakfast. Smoothies are also super quick to make: simply combine milk, Greek yogurt and frozen fruit in a blender.
Get inspired for snack time
When hunger strikes between meals, you want a nutritious snack to give your body the fuel it needs to handle whatever life throws your way. Snacks are an opportunity to fill the nutrition gap, by topping up with fruit, vegetables, or milk products. And when you have nourishing options on hand, you're less likely to eat less nutritious options. Follow these simple tips: Select nutrient packed foods, plan out your snacks the same way you do your meals, and eat when hunger pangs strike. Need inspiration? Slices of apples with cheddar cheese make for a great sweet-and-savoury combo! A homemade, whole wheat muffin or a high-fibre protein bar and drinkable yogurt is a great snack that fits neatly into a backpack. Prepare veggies and hummus for lunch or afternoon cravings. Mix handfuls of dried fruits and unsalted nuts to create your own tasty trail mix. Pre-cut vegetables or hard-boiled eggs are always great to have in the fridge, so you aren't left without a healthy snacking option!
Eating together: The secret to savouring healthy eating
Eating meals with others is a great way to stay connected and also provides a number of health benefits! It's a wonderful way to adopt better eating habits because in addition to enjoying quality time, meals eaten with others are often more balanced and prepared with fresh, more nutritious foods. If getting together with your loved ones isn't possible, just use a little ingenuity and cook and eat together virtually! Want to make this experience a regular activity? Start a routine: for example, plan a dinner every Saturday featuring a food you're less familiar with. It's a great way to experiment, while exploring new textures and flavours. The conversation, positive emotions and memories you create will strengthen your connections while you fill up on satisfying, nutritious meals.
Unwind before you dine
Taking the time to relax and enjoy your meals is great for your health. Creating a calming setting allows you to savour every bite, be more attentive to your hunger and fullness signals, and make the healthiest dietary choices possible, among other things. It's important to note that stress plays a part in our digestion and how well the intestine absorbs nutrients. Our intestine has hundreds of millions of neurons in constant communication with the brain, and stress can disrupt this. Interferences with this exchange of information can trigger muscle spasms in the intestine that may be painful, along with bloating and other sorts of discomfort. To support your wellness, try making eating a pleasant experience. Put aside any distractions like your smartphone, computer, or television and find pleasure in eating in the company of others. By focusing on the food in front of you, you'll truly appreciate and enjoy every last bite.
Dairy Farmers of Canada has tasty and nutritious recipes for you
Lacking mealtime inspiration? The nutritious "Our dietitians' favourite" recipes on the Canadian Goodness website were created and endorsed by the team of Registered Dietitians at Dairy Farmers of Canada. Their nutritional value meets specific criteria for certain nutrients, including protein, fibre and sodium.
Other articles
Canadian-Produced Food – The Quality You Want, Right at Home!
Tips That Make it Easier to Add More Vegetables and Fruit to Your Diet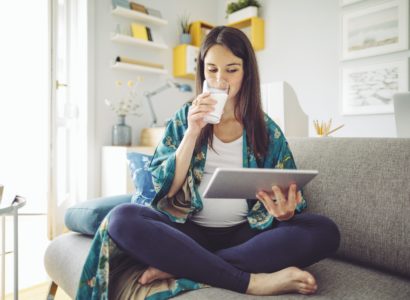 Milk Products: Your Partner in Healthy Eating