Tips That Make it Easier to Add More Vegetables and Fruit to Your Diet
We all know that vegetables and fruit are important in a healthy diet. But it can be challenging to meet the recommendations for including these foods in your daily diet as described in Canada's Food Guide.
Here are a few simple strategies to help you get enough vegetables and fruit each day:
Aim for half your plate to include a mix of colourful vegetables and fruit at lunch and dinner.
Eat seasonally and savour the taste of fresh, locally grown vegetables and fruit.
Snack on pieces of fruit; add a yogurt-based dip for extra zip!
Add vegetables to your sandwiches: grated carrot, roasted zucchini, spinach leaves, diced or sliced tomato, avocado slices, or sautéed mushrooms.
Try featuring more vegetable-based dishes in your repertoire such as chicken minestrone soup or a hearty egg salad packed with vegetables.
Opt for frozen vegetables and fruit to make preparing soups, spaghetti sauces, smoothies and muffins easier. They are just as nutritious as fresh vegetables and fruit, with the added advantage of being a cinch to use.
Reserve some time after grocery shopping to wash and cut up larger vegetables and fruit (e.g., melons, pineapple, mango). You'll save time during the week and always have some conveniently on hand to snack on.
Have prewashed and precut vegetables on hand (for example: baby carrots, prewashed lettuce, baby spinach, green beans, diced squash, coleslaw). They may cost a little more but will save time when life gets busy.
Keep a variety of dried fruit on hand to quell hunger in between meals.
Excite your taste buds by discovering new vegetables and fruit. Add a little adventure to your grocery basket with some fennel, kale, Cara Cara oranges or an orange honeydew melon.
Get creative in the kitchen by preparing veggies and fruit in new ways: make vegetable skewers, create a spicy salsa, incorporate overly ripe fruit into your muffins or have fun varying your milkshake flavours.
There's a whole world of possibility when you cook with vegetables
When it comes time to prep vegetables, let your imagination be your guide. From raw, steamed, stir-fried, or starring in your favourite dishes, there are endless ways to eat and enjoy vegetables. Are you looking for a unique way to prep veggies? Make some vegetable kabobs by threading peppers, zucchinis, and onion chunks onto skewers and then roast them in the oven. Treat your taste buds to a Pico de Gallo or a scrumptious salsa made with tomatoes, red onion and fresh cilantro. Master the art of emptying your fridge by using everything on hand to whip up a delicious vegetable soup or "enhance" your pasta sauce with tons of nutritious vegetables. If you're making homemade muffins, why not add some sweet potato puree or shredded carrots into your muffin mix? Finally, add some baby spinach to your smoothies — an excellent way to start your day.
Whole fruit: Surprising allies when it comes to your health
Fruit provides a range of essential nutrients and other components that are good for your health, including antioxidants and vitamins. It's important to get enough fruit in our diets, as these also contain a high amount of fibre per portion, with an average of 2-4 g of fibre per serving. Try to opt for the whole fruit (with the peel) since a large proportion of the fibre is found in the skin. For example, a peeled apple has 40% less fibre than a whole apple.
If you're wondering which fruit are the most fibre-rich, here's a brief list:
Pears (5.5 g for one medium-sized fruit);
Raspberries and blackberries (4 g per ½ cup serving);
Apples with their peels (3.5 g per medium-sized fruit).
Four seasons of fresh fruit and vegetables
In the summer, seasonal fruit and vegetables are abundant and inexpensive. Look for freshness and a variety of colours: broccoli, cucumbers, zucchini, beans, lettuce, corn, melons, berries (blueberries, strawberries, raspberries), bell peppers, radishes and field tomatoes. Now's the time to fill up your freezer and do some canning ahead of the colder months when the supply of fresh produce is limited. The fall is another productive season for gardens and late harvests typically keep longer. When the mercury drops, make your plate a showcase for comforting foods: eggplants, beets, carrots, celery, cabbage, squash and onions. Mid-winter, frozen fruit and vegetables come in very handy. They contain just as many vitamins and minerals as their fresh versions, since they were picked ripe and immediately frozen.
Other articles
Fibre-Rich Foods are a Must for Your Health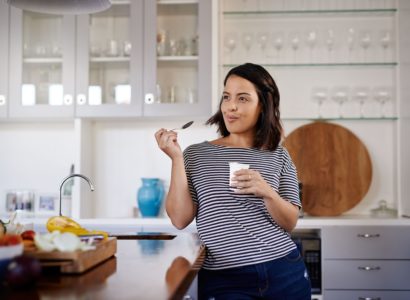 Healthy Ways to Satisfy Your Sweet Tooth
Getting Back to Basics with Healthy Eating